Next Moves Panel
English below | Konzept | Programm
Öffentliche Diskussion über gesellschaftliche Veränderungen; Veränderungen durch die Pandemie, und nun durch den russischen Krieg gegen Ukraine. Welche Rolle kommt die Kunst in dieser Gegenwart zu?
Public discussion about societal changes; changes brought about by the pandemic, and now by the Russian war against Ukraine. What is the role of art in this present?
Datum: Sonntag 06. März, 16 Uhr
Dauer: ca. 1,5 Stunden Diskussion. Anschließend lockerer Austausch.
Ort: Kulturzentrum LUISE
Tickets: Kostenlos. Wir bitten um Anmeldung mkk@magdalenamuenchen.de
Es gilt 2G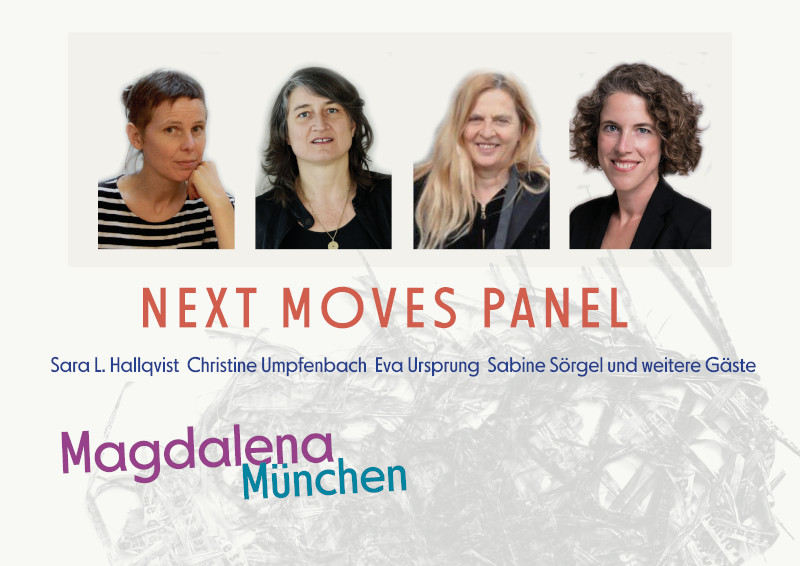 Im Rahmen unserer Reihe Next Moves lädt Magdalena München zu einem Paneldiskussion über die gegenwärtige Krisen ein. Ursprünglich war die Diskussion als Reflexion über die Folgen der Pandemie gedacht, ist die Gegenwart nun schon anders, und wir sehen es als ein Muss auch den Krieg gegen Ukraine, und damit Kriege weltweit, zu thematisieren.
Next Moves reagiert auf die Notwendigkeit, die Veränderungen, die wir derzeit als Individuen, als Künstler:innen und als Gesellschaft erleben, kritisch zu untersuchen und zu beeinflussen. Es geht darum, nicht kopflos weiterzumachen, wie es scheint gerade zu geschehen. Die beiden letzten Jahre haben Veränderungen gebracht und haben die Themen Migration, Flucht und Klima in den Hintergrund gerückt. Gleichzeitig verschärfen sich die Konflikte weltweit und die Kipppunkte der Klimakrise nähern sich.
Als Künstler*innen wollen wir vorausschauend sein, wir möchten diskutieren, wie eine "neue Normalität" sein könnte, und was diese für uns als Künstler:innen, Migrant:innen und Bürger:innen bedeutet. Wie können und sollen wir uns nach der einschneidenden Situation des Covid19 mobilisieren, um eine "neue Normalität" mitzugestalten? Wie sah die Pandemiezeit für Geflüchtete aus, und welche Rechte haben sich verändert? Welche Folgen wird die Invasion in Ukraine auf die nächsten Schritte der Gesellschaft haben? Wie verhält sich sozialpolitische Kunst und Theater hierzu?
Die Panelgäste werden von ihren jeweiligen Erfahrungen berichten, wie sie Künstler:innen, Aktivist:innen und Zivilgesellschaft zusammenbringen – und wie dieses in der Pandemiezeit möglich war. Hierbei soll beleuchtet werden inwiefern die digitalen Entwicklungen, die mit der Pandemie explodierten, hilfreich waren, und auch nachgehen werden, für wen die ein Hindernis der Beteiligung darstellen, auch in der jetzigen Situation.
Zusammen mit den Gästen und Euch, gehen wir also die Frage nach, welchen Weg wir gerade einschlagen, welche Bündnisse sich zur Zeit schließen (lassen), und inwiefern wir hauptsächlich mitlaufen oder tatsächlich die Gegenwart mitgestalten.
Next Moves ist inspiriert von dem internationalen Projekt Mobilise/Demobilise, dessen Thema Mobilisierung von der Zivilgesellschaft als Reaktion auf globale Konflikte und den Klimanotstand ist.
Es diskutieren die Theaterregisseurinnen Christine Umpfenbach (München) und Sara Larsdotter Hallqvist (Malmö), Theaterwissenschaftlerin Sabine Sörgel (München), multidisziplinäre Künstlerin Eva Ursprung (Graz) sowie bildende Künstlerin Raquel Ro (München). Moderation: Helen Varley Jamieson und Marianne Kjær Klausen (Magdalena München).
Dieses Projekt wird gefördet von der Artist-in-Residence-Programm der Landeshauptstadt München, Villa Waldberta; Kulturreferat der Landeshauptstadt München; des Bezirksausschusses BA1 Altstadt-Lehel; und des Bezirksausschusses BA2 Ludwigsvorstadt-Isarvorstadt.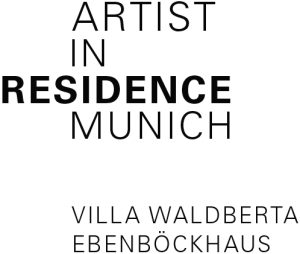 Next Moves Panel
Public discussion about social changes; changes due to the pandemic, and now due to the Russian war against Ukraine. What is the role of art in this present?
Date: Sunday 06. March, 4 pm
Duration: ca. 1,5 hours discussion, followed by casual exchange.
Venue: Kulturzentrum LUISE
Tickets: Free. Please register: mkk@magdalenamuenchen.de
2G regulations apply.
As part of our Next Moves series, Magdalena München invites you to a panel discussion on the current crises. Originally intended as a reflection on the consequences of the pandemic, the present is already different, and we see it as a must to also address the war against Ukraine, and thus wars worldwide.
Next Moves responds to the need to critically examine and influence the changes we are currently experiencing as individuals, as artists, and as a society. It is about not thoughtlessly moving on, especially not as before. The last two years have brought changes and pushed the issues of migration, flight and climate into the background. At the same time, conflicts are intensifying worldwide and the tipping points of the climate crisis are approaching.
As artists, we want to be forward-looking, we want to discuss what a "new normal" might be like, and what it means for us as artists, migrants, and citizens. How can and should we mobilize ourselves to help shape a "new normal" after the drastic situation of Covid19? What has the pandemic period looked like for refugees, and what rights have changed? What is the impact of the current Ukraine invasion on our next moves? How does socio-political art and theater relate to all of this?
The panelists will share their respective experiences of bringing artists, activists, and civil society together – and how this was possible during the pandemic period. They will explore how the digital developments that exploded with the pandemic were helpful, and for whom they were an obstacle to participation.
Together with the guests and you, we will explore the question of which path we are currently on, which alliances are (can be) formed at the moment, and to what extent we are blindy following along or actually shaping the present.
Next Moves is inspired by the international project Mobilise/Demobilise, whose theme is the mobilisation of civil society in response to global conflicts and the climate emergency.
Panelists are the theater directors Christine Umpfenbach (Munich) and Sara Larsdotter Hallqvist (Malmö), independent scholar Sabine Sörgel (Munich), multidisciplinary artist Eva Ursprung (Graz) and visual artist Raquel Ro (Munich/Spain). Moderation: Helen Varley Jamieson and Marianne Kjær Klausen (Magdalena Munich).
This project is supported by the Artist-in-Residence-Programm of the City of München, Villa Waldberta; the Culture Department of the City of Munich; the Bezirksausschusses BA1 Altstadt-Lehel and the Bezirksausschusses BA2 Ludwigsvorstadt-Isarvorstadt.