Next Moves: Künstlerinnen
Next Moves präsentiert Eva Ursprung und Sara Larsdotter Hallqvist, die von Januar bis März 2022 als Artists in Residence in der Villa Waldberta sind, sowie die Theaterregisseurin Christine Umpfenbach, die Theaterwissenschaftlerin Sabine Sörgel und die bildende Künstlerin Raquel Ro.
Konzept | Programm | Posts | Galerie

Eva Ursprung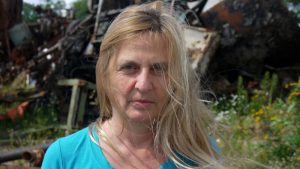 Eva Ursprung lebt und arbeitet in Graz, Österreich. Sie studierte Psychologie und Linguistik, und arbeitet seit 1986 als freischaffende Künstlerin und Kuratorin. Ihre Arbeiten umfassen Sound, Video und konzeptuelle Fotografie, Installationen, Performances und Kunst im öffentlichen, digitalen und sozialen Raum. 1998-2003 war sie Kuratorin für Bildende Kunst im Forum Stadtpark Graz, seit 2007 ist sie Vorstandsmitglied des IMA (Institut für Medienarchäologie), und nicht zuletzt ist Eva Gründungsmitglied und von 2008-2021 Präsidentin von "Schaumbad – Freies Atelierhaus Graz". Ihre Arbeiten führte Sie unter anderem nach New York, Los Angeles, Brüssel, Rijeka, Pula, London, Nantes, Eindhoven, Mailand, Novi Sad, Belgrad, Bonn, Frankfurt, Darmstadt, Bratislava, Manchester, Hull, Gdansk, Bukarest, Madrid, Glasgow, St. Petersburg, Jerusalem, Maribor, Bangkok, Chiangmai und Singapur.
Eva Ursprung lives and works in Graz, Austria. She studied psychology and linguistics, and since 1986 works as a freelance artist and curator, working with sound, video and conceptual photography. Installations, performances, art in the public, electronic and social spaces. From 1998 to 2003 she was the Curator for visual arts at Forum Stadtpark Graz, since 2007 a board member of IMA (Institute for Media Archeology, and she is a founding member and from 2008-2021 president of "Schaumbad – Freies Atelierhaus Graz". Projects, exhibitions and performances all over Austria, in New York, Los Angeles, Brussels, Rijeka, Pula, London, Nantes, Eindhoven, Mailand, Novi Sad, Belgrad, Bonn, Frankfurt, Darmstadt, Bratislava, Manchester, Hull, Gdansk, Bukarest, Madrid, Glasgow, St. Petersburg, Jerusalem, Maribor, Bangkok, Chiangmai, Singapur.

Sara Larsdotter Hallqvist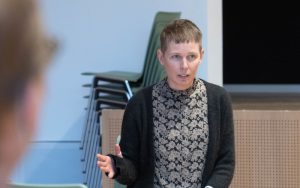 Sara Larsdotter Hallquist ist Theaterregisseurin Scwheden, sie lebt und arbeitet in Malmö. Sare studierte Kunstwissenschaft und Theaterfilm an der Universität Lund und absolvierte ein Theaterstudium am Dah Teatar Research Center in Belgrad. Mit dem Ziel, dokumentarisches Material für die Bühne zu verarbeiten, gründete sie 2005 (zusammen mit Nina Norén) Teater Interakt. Seit 2012 arbeitet Teater InterAkt mit Menschen mit Migrationserfahrung, vor allem im Asylverfahren, zusammen und kreiert Performances, die alternative Narrative von Migration und schwedischer Identität vermitteln. Saras künstlerische Arbeit konzentriert sich auf die Erforschung von ethischen und ästhetischen Fragen im Zusammenhang mit dokumentarischem Material und auf die künstlerische Arbeit mit nicht ausgebildeten Schauspieler:innen/Künstler:innen.
Sara hat eine Reihe von internationalen Austauschprojekten initiiert und daran teilgenommen, unter anderem in Großbritannien, Zypern, den USA und Serbien. 2017 erhielt sie Unterstützung von der Europäischen Kulturstiftung für die Entwicklung des Projekts "Movements in the space between" (Bewegungen im Zwischenraum), ein Forschungsprojekt, das untersucht, wie neue Technologien dazu beitragen können, die Arbeit von Künstler:innen zugänglich zu machen, die aufgrund ihres rechtlichen Status nicht reisen können.
Sara Larsdotter Hallquist is a Swedish theater director based in Malmö. She studied art science and drama-theater films at Lund University and conducted theater studies at the Dah Teatar Research Center in Belgrade. With the aim to  work with documentary material in stage art performances she founded Teater Interakt (together with Nina Norén) in 2005. Since 2012 Teater InterAkt work together with people with experience of migration, mainly in the asylum-process, creating performances communicating alternative narratives of migration and Swedish identity. Saras artistic work focus on researching and finding artistic answers to ethical and aestetical questions related to documentary material and artistic work together with non trained actors/artists.
Sara has initiated and taken part in a number of international exchanges with projects in for example Great Britain, Cyprus, Usa and Serbia. In 2017 she was granted support from the European Cultural Foundation to develop the project Movements in the space between, a research project exploring ways that new technologies can help make accessible the work of artists' who cannot travel due to their legal status.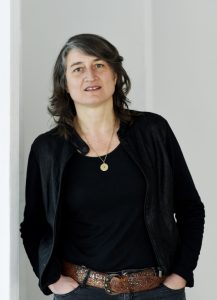 Christine Umpfenbach, lebt in München und arbeitet als Regisseurin und Autorin. Sie studierte Bühnen- und Kostümbild an der Kunsthochschule Berlin Weißensee und Regie am Goldsmiths College London. Sie leitete das Obdachlosentheater RATTEN 07 an der Volksbühne Berlin. Seit 2003 arbeitet sie als freiberufliche Regisseurin in verschiedenen Städten, u.a. in München, Freiburg, Riga, Tel Aviv und Taipei. Ihre dokumentarischen Theaterprojekte befassen sich mit gesellschaftspolitischen Themen. Jedes Projekt entsteht durch intensive Recherche. Die Darsteller:innen sind häufig keine professionellen Schauspieler:innen, sondern Menschen, die auf Grund ihrer Lebenserfahrung im Mittelpunkt der Projekte stehen. In ihren Stücken wird die Stadt zur Bühne. Das Theaterprojekt GLEIS 11 fand in einem Luftschutzbunker direkt unter dem Münchner Hauptbahnhof statt. URTEILE, das im Residenztheater München 2014 uraufgeführt wurde, war das erste Stück im deutschsprachigen Raum, das aus der Perspektive der Opfer des Nationalsozialistischen Untergrund (NSU) erzählt. 2014 erhielt sie den Theaterförderpreis der Landeshauptstadt München. Ihr letztes Stück 9/26 – DAS OKTOBERFESTATTENTAT wurde für den Mülheimer Dramatikerpreis 2021 nominiert.
Christine Umpfenbach is living in Munich and working as a directress and author. She studied Stage and Costume Design at the Kunsthochschule Berlin Weißensee and Directing at the Goldsmiths College London. She managed the homeless theatre RATTEN 07 at Volksbühne Berlin. Since 2003, she has been working as a free-lance director in various cities, such as Munich, Freiburg, Riga, Tel Aviv, and Taipei. Her documentary theatre projects deal with socio-political topics. Each project is developed through intensive research. Often, the performers are not professional actors but people who take centre stage of the projects due to their life experience. In her plays, the city becomes the stage. The theatre project GLEIS 11 took place in an air raid shelter directly underneath the Munich main railway station. URTEILE, which premiered in the Residenztheater Munich in 2014, was the first play in the German-speaking area which is told from the perspective of the victims of Nationalsozialistischer Untergrund (NSU). In 2014, she received the Theatre Promotion Award of the Bavarian state capital Munich. Her last play 9/26 – DAS OKTOBERFESTATTENTAT was nominated for the Mülheimer Dramatikerpreis 2021.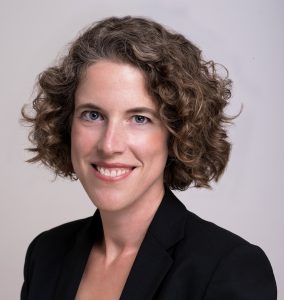 Sabine Sörgel promovierte in Performance- und Medienwissenschaften an der Johannes Gutenberg-Universität Mainz. In 2003 forschte sie mit der National Dance Theatre Company of Jamaica in Kingston und untersuchte hier postkoloniale Identitätsdiskurse im Kontext der Politik der Nationenbildung nach der Unabhängigkeit. Von 2008 bis 2012 war sie Dozentin für Drama, Theater und Performance an der Universität Aberystwyth in Wales, Großbritannien, und hatte 2011-2012 ein Forschungsstipendium am "Interweaving Performance Cultures Research Centre" der Freien Universität Berlin. Von 2013 bis 2019 war sie Senior Lecturer für Tanz und Theater an der University of Surrey in Guildford, UK, und Programmleiterin für den BA-Studiengang Tanz und Kultur. Seitdem arbeitet sie unabhängig als Forscherin, Dramaturgin und Autorin. Zu ihren Veröffentlichungen gehören "Dancing Postcolonialism – The National Dance Theatre Company of Jamaica" (2007), "Dance and The Body in Western Theatre", "1948 to the Present" (2015) und "Contemporary African Dance Theatre: Phenomenology, Whiteness and the Gaze" (2020) sowie Artikel über zeitgenössischen Tanz, Theater und Performance in diversen Publikationen. Derzeit ist sie Forschungsstipendiatin am Käte Hamburger Kolleg Global Dis:Connect an der Ludwig-Maximilians-Universität in München und arbeitet an einem Buchprojekt, das sich mit den Schatten der Globalisierung in zeitgenössischen politischen Krisen und Ereignissen beschäftigt.
Sabine Sörgel received her PhD in Performance and Media Studies from Johannes Gutenberg University, Mainz/Germany. In 2003 she conducted field research with the National Dance Theatre Company of Jamaica in Kingston examining postcolonial identity discourses in the context of nation building post-independence politics. From 2008 – 2012 she was Lecturer in Drama, Theatre and Performance at Aberystwyth University in Wales, UK and awarded a one-year research fellowship at the Interweaving Performance Cultures Research Centre at Freie Universität Berlin from 2011-12. From 2013-2019 she was appointed Senior Lecturer in Dance and Theatre at University of Surrey in Guildford, UK and programme lead for the BA Dance and Culture programme there. Since then she has worked independently as a researcher, dramaturg and author. Her publications include Dancing Postcolonialism – The National Dance Theatre Company of Jamaica (2007), Dance and The Body in Western Theatre. 1948 to the Present (2015) and Contemporary African Dance Theatre: Phenomenology, Whiteness, and the Gaze (2020) as well as several book chapters, edited volumes and journal articles on contemporary dance, theatre and performance. She is currently a research fellow at the Käte Hamburger Kolleg Global Dis:Connect at Ludwig-Maximilians-Univrsität in Munich working on a book project that considers the shadows of globalization in contemporary political crises and events.

Raquel Ro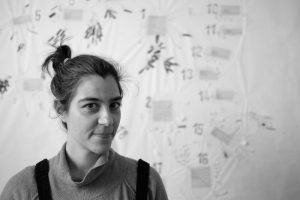 Raquel Ro ist in Mexico gezeugt, in Barcelona geboren, und wohnt und arbeitet seit 2009 in München. Sie ist Performerin, bildende Künstlerin, Mutter und Grafikerin. Sie ist künstlerische Co-Leiterin und Co-Organisatorin von Magdalena München. Seit 2021 ist sie Leiterin der Steindruckwerkstatt des Münchner Künstlerhauses.
Raquel Ro was conceived in Mexico, born in Barcelona, and has lived and worked in Munich since 2009. She is a performer, visual artist, mother and printmaker. She is artistic co-director and co-organiser of Magdalena Munich. Since 2021, she has been the director of the lithography workshop of the Münchner Künstlerhaus.

Helen Varley Jamieson
Helen Varley Jamieson ist neuseeländische Autorin, Theatermacherin und digitale Künstlerin, die in München lebt. Sie hat einen Master of Arts im Bereich Cyberformance (Live-Online-Performance), die sie seit 1999 praktiziert. Im Jahr 2003 war sie Mitgründerin von UpStage, ein digitaler Veranstaltungsort für Cyberformance, und hat zahlreiche Festivals und Veranstaltungen online mitkuratiert. In ihre Arbeiten nutzt sie digitale Werkzeuge um aktuelle ökologische, politische und soziale Themen in Projekten wie Mobilise/Demobilise (2020-2023), We have a situation! (2013-2016), Unaussprechbarlich (2015-2018), Tales from the Towpath (2014) und make-shift (2010-12) zu beleuchten. Helen ist international in mehreren Netzwerken aktiv, die mit den Begriffen open source, feministisch, Theater und digitale Kunst beschrieben werden können. Seit 1997 engagiert sie sich für das Magdalena-Projekt, und gründete 2015 Magdalena München.
Helen Varley Jamieson is a New Zealand writer, theatre-maker and digital artist based in Munich, Germany. She holds a Master of Arts degree in cyberformance (live online performance), which she has been practising since practising since 1999. In 2003 she co-founded UpStage, a digital venue for cyberformance, and has co-curated numerous festivals and events online. In her work she uses digital tools to address current ecological, political and social issues in projects such as em>Mobilise/Demobilise (2020-2023), We have a situation! (2013-2016), Unaussprechbarlich (2015-2018), Tales from the Towpath (2014) and make-shift (2010-12). Helen is internationally active in numerous open source, feminist, theatre and digital art networks. Since 1997 she has been involved with the Magdalena Project, and founded Magdalena Munich in 2015.
Marianne Kjær Klausen

Marianne Kjær Klausen studierte Philosophie und Kunstgeschichte in Kopenhagen und Berlin. Seit gut 10 Jahren arbeitet sie als Theatermacherin; als Regisseurin, Dramaturgin und zeitweise auch als Performerin. Ihre Arbeiten umfassen klassische Inszenierungen, Stückentwicklungen, Performance und Bürgerprojekte. Seit einigen Jahren beschäftigt sie sich hauptsächlich mit Theater für junges Publikum, ist hierfür Dramaturgin am Theater an der Rott und macht nicht nur Theater für, sondern auch mit jungen Darsteller:innen. Sie arbeitet zudem als Übersetzerin für sozialpolitische Bücher, u.a. "Judith Butler zur Einführung" von Hannelore Bublitz, "Kommunismus: Kleine Geschichte, wie alles endlich anders wird" von Bini Adamczak und "Psychopolitik" von Byung Chul-Han. In dem Magdalena Projekt ist sie seit 2019 aktiv.