Rosa – ein Portrait aus Lateinamerika
Click for English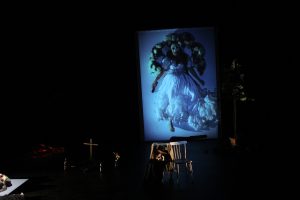 "In diesem Stück teile ich den Gesang einer Generation von Töchtern und Frauen, die nicht länger erniedrigt werden woollen. Wir werden Inspirationen von großen lateinamerikanischen Künstlerinnen nutzen, um die Transformation von harscher Realität in explosive und lebensrettende Kunstwerke zu zeigen."
Rosa nutzt die evokative und metaphorische Kraft von Musik und Video und zeichnet damit das Portrait einer lateinamerikanischen Frau, einer Figur aus einem Gemälde von Débora Arango oder Frida Kahlo, einer Stimme, die sich wütend erhebt wie ein Lied von Violeta Parra. Ans Haus gefesselt oder von neoliberalen Umständen ausgebeutet, in ihrem Begehren zensiert und manchmal ins Exil getrieben, überlebt Rosa in einem Land, das zwischen den Versprechungen der Emanzipation und der Gewalt eines von den USA implementierten Gesellschaftsmodells navigiert.
Das Schauspiel porträtiert verschiedene Momente aus Rosas Leben; durch den Gebrauch von Live-Kameras und sich vervielfältigenden Bildern wird der Raum verändert, um sowohl von ihrem intimen Leben als auch von unserer kollektiven Erinnerung zu erzählen. Die Werke und Leben von Frida Kahlo, Violeta Parra, Debora Arango und Rigoberta Menchú haben die Autorin dazu inspiriert, Charaktere zu schaffen, die historische Fakten illustrieren, alltägliche Situationen verkörpern und schwere Themen wie Kolonisierung, Indigenität, Kapitalismus und soziale Unterdrückung konkret angehen. Das Stück ist ebenso von anonymen Frauen inspiriert, von unseren Müttern und Großmüttern, die alle irgendwann in ihrem Leben mit Verachtung, Gewalt und der Unterdrückung ihrer Wünsche konfrontiert waren. Durch ihre Stimmen entdecken wir eine tiefe und empfindsame imaginäre Welt, die uns auf dem einen wie dem anderen Kontinent unsere Zeit begreifen lässt. Viele von uns sind heute noch Opfer sexisitischer Gewalt. Es ist noch ein langer Weg zu gehen bis zu einer wirklichen Gleichheit von Mann und Frau.
Der Soundtrack erkundet wie im Kino ein weites Feld von Emotionen und lässt die Erzählung kulminieren. Die Lieder vervollständigen diese Klanglandschaft, um die Träume und Kämpfe lateinamerikanischer Frauen hervorzuheben, die in der Geschichte oft auch aus sozialen Bewegungen ausgegrenzt waren.
Rosa a Portrait of Latin America
"In this show, I bear the song of a generation of daughters and women who no longer want to be humiliated. We will get our inspiration from great Latin American artists to show the transformation of harsh reality into explosive and lifesaving artworks."
Relying on the evocative and metaphorical strength of music and video, Rosa is the portrait of a Latino-American woman, a character out of a painting from Débora Arango or Frida Kahlo, a voice that rises with rage like a song from Violeta Parra. Confined to the shackles of home or enslaved by neoliberalism codes, censored in her desires and sometimes driven to exile, Rosa survives in a country that navigates between the promises of emancipation and the violence of a social model imposed by the United States.
The play portrays different moments of Rosa's life; using live cameras and proliferating images, the space is transformed in order to talk about her intimate life and our collective memory. The works and lives of Frida Kahlo, Violeta Parra, Debora Arango et Rigoberta Menchú inspired the creation of characters to illustrate historical facts, embody daily situations and concretely tackle strong themes like colonisation, indigenousness, capitalism and social oppression. The play is also inspired by anonymous women, by our mothers and grandmothers who all, at one point in their lives, have had to face contempt, violence, the supression of their desires. Through their voices, we discover a deep and sensitive imaginary world to decipher our time, from one continent to the next. Many of us are still victims of sexist violence. There is still a long way to go to achieve a true equality between men and women.
The soundtrack explores a vast range of emotions which, as it does at the cinema, brings narrative to its culminations. The songs complete this soundscape to bring to the fore the dreams and struggles of Latino-American women, who were historically sidelined from the social movement.
Mit freundliche Unterstützung des Migrationsbeirats.