21.04., Ausstellung, Fotodokumentation des Magdalena Saison 2018.  HochX.
Click for English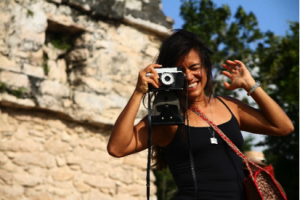 Sinai Solis wurde in Cuernavaca, Morelos Mexiko geboren. Sinai studierte Kunst und Photography in der Centro Morelense de las Artes Universität in Cuernavaca, Mexiko. Sinai hatte verschiedene Ausstellungen im Bereich Fotografie, bevor sie sich nach Prag umzog, wo sie erweiterte ihre persönliche photographische Arbeit.
Seit 5 Jahren wohnt sie in München wo sie als Photographin für Veranstaltungen arbeitet und perfektioniert ihren photographischen Blick. Vor allem interessiert sich für Portraits sowie die Dokumentation der alltäglicher Szene auf der Straße.

Sinai Solis Samano was born in Cuernavaca, Morelos Mexico, and studied Arts and Photography at the Centro Morelense de las Artes in Cuernavaca, Mexico. She had various photographic exhibitions in Cuernavaca before she moved to Prag where she continued to photograph and expand her work.
She moved to Munich where she works as a photographer for events and continues to create, research and expand her personal photographic view. Among her photographic interests are portraits and the everyday scenes that the streets offer.