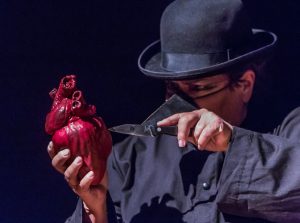 Tale 53; Snowhite
Tale 53; Snowhite ist eine unheimliche Geschichte, die sich in einem faszinierenden hölzernen Bauwerk abspielt, das ein Puppentheater (mit zweidimensionalen, sich auf Gleisen bewegenden Puppen), Objekte, ein kamishibai (für Hintergrundwechsel) und ein "cranky", sich bewegendes Panorama beherbergt. Es basiert auf Schneewittchen, einem Werk der bekannten spanischen Autorin und Illustratorin Ana Juan. Deborah Hunt hat die Geschichte adaptiert, führt Regie und spielt mit Puppen und Hintergründen.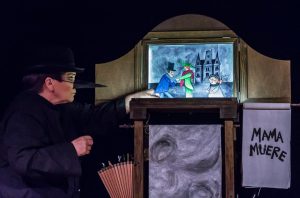 Weit entfernt von der Disney-Version von Schneewittchen erzählt unsere Geschichte das Leben einer jungen Frau, die einer blutrünstigen Stiefmutter, einer feindseligen Stadt, betrügerischen Zwergen und einem habgierigen Prinzen zum Opfer fällt. Basierend auf der 1812 veröffentlichten Originalgeschichte Märchen 53 (Das kleine Schneewittchen) der Gebrüder Grimm bietet die Geschichte von Ana Juan eine bissige, stichhaltige und auch für unsere Zeit relevante Sicht auf die Situation von Frauen. Zusammen mit der Schönheit der Puppen, Objekte und gemalten Hintergründe bietet Tale 53; Snowhite eine einzigartige theatralische Erfahrung.
Puppentheater ist eine Art von Miniaturtheater, die im 19. Jahrhundert in Europa ihre Blütezeit erlebte. Die kleinen Theater, Bühnenbilder, Hintergründe und Charaktere wurden auf Papier gedruckt, angemalt und ausgeschnitten, und die Geschichten wurden in den Wohnzimmern und Salons von Privathäusern aufgeführt, oft begleitet von Live-Musik.
Hunt hat dieses Stück in Puerto Rico (San German und San Juan) und am Odin Teatret in Dänemark und New York aufgeführt. Es gehört außerdem zum Programm des Festival Internacional de Títeres (Internationales Puppenspielfestival) in Matanzas, Cuba 2018.

Tale 53; Snowhite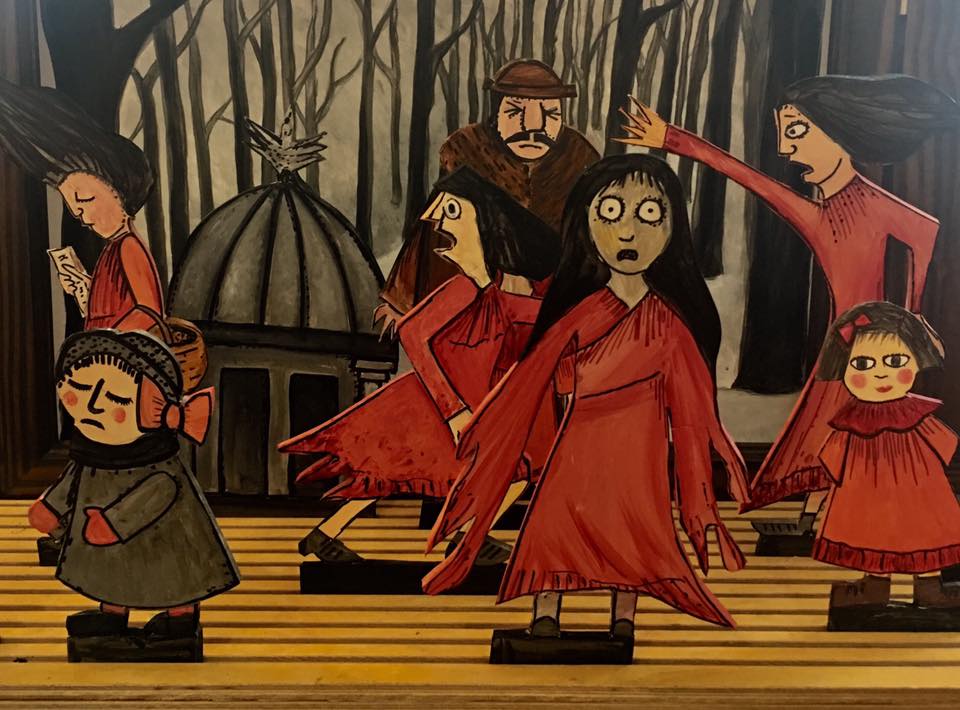 Tale 53; Snowhite is a sinister story told inside an intriguing wooden artefact that houses a toy theatre (with two-dimensional painted puppets moving on tracks), objects, a kamishibai (for backdrop changes) and a "cranky" or moving panorama. It is based on Snowhite, the creation of reknowned Spanish author and illustrator Ana Juan. Deborah Hunt has adapted and directed the tale, and manipulates the puppets and backdrops.
Far from the Disneyesque version of Snow White, our tale relates the life of a young woman who falls prey to a blood thirsty stepmother, a hostile city, hustling dwarves and a rapacious prince. Based on the original story Tale 53 (The Little Snow White) of the Grimm Brothers published in 1812, the story by Ana Juan offers a biting and pertinent view of the situation of women still relevant to our times. Juxtaposed with the beauty of the puppets, objects and painted backdrops, Tale 53; Snowhite promises a unique theatrical experience.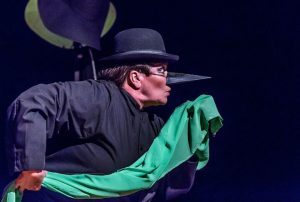 Toy theatre is a kind of theatre in miniature that flourished in the 19th century in Europe. The small theatres, scenery, backdrops and characters were printed on paper, painted and cutout and the stories were presented in the salas and drawing rooms of private houses, often accompanied with live music.
Hunt has presented the work in Puerto Rico (San German and San Juan) at the Odin Teatret in Denmark and New York. It will be presented at the Festival Internacional de Títeres de Matanzas en Cuba in 2018.