22.04., 19:00 Performance: HochX
Schwimmkunst erlernt in weniger als nur einer Stunde
Der Mensch stammt vom Frosch ab – dessen war sich Jean Pierre Brisset, deliriöser Linguist des vorletzten Jahrhunderts, sicher. Seine Schriften zur Verwandtschaft von Mensch und Frosch beeinflussten die Surrealisten und Dadas, die ihn zum "Fürsten der Denker" kürten. The Hercules and Leo Case nehmen Brisset beim Wort. Seine Studien zur fröschischen und französischen Sprache sowie seine Schwimmlehre bilden den Ausgangspunkt für ihren Brisset – Remix.
Das Performance Kollektiv The Hercules and Leo Case schafft klangliche Arrangements auf der Basis von Stimme und Sprache. Vielfältig eingesetzt, gebrochen, dekonstruiert, rhythmisiert und medial erweitert wird die menschliche Stimme Instrument für eine künstlerische Recherche, die das Verhältnis von tierisch anmutenden Lauten zur differenzierten Sprache oder von einfachen Geräuschen zu Musik produktiv zu machen versucht. Fragend, experimentierend und improvisierend erforscht The Hercules and Leo Case so die Grauzone zwischen Natur und Kultur, bedient sich dabei aus Literatur, Film, Musik und Wissenschaft oder verarbeitet beispielsweise einen Gerichtsfall in New York, in dem versucht wurde zwei in Gefangenschaft lebenden Schimpansen, Hercules und Leo, Persönlichkeits-ähnliche Rechte einzufordern. Der Fall wurde namensgebend und steht sinnbildlich für das Programm des Kollektivs: Ungehörtem eine Stimme geben, Unerhörtes behandeln, Unsichtbares verbergen, damit Unverständliches Gehör finden kann.

Maria Berauer – geb. 1982 in Regensburg; 2012 Diplom in Medienkunst, AdbK München; 2011 1. Staatsexamen Kunstpädagogik; seit 2014 Atelierprojekt Halle 6; Atelierförderung des Bayerischen Staates (2015-2018) und der Stadt München (2014); 2016/2017 Projektförderungen der Stadt München.
Katrin Petroschkat – geb. 1979 in München; 2005 M.A. Kulturwissenschaft, Humboldt Universität zu Berlin; 2015 Diplom AdbK München, Klasse Prof. Gregor Schneider; 2009 Atelierförderung der Stadt München; 2012 Förderpreis der LfA, 2015 Stipendium des bayr. Staates für die Sommerakademie Salzburg.
Karo Knote – geb. 1984 in München; Tischlerin, Möbeldesignerin, Innenarchitektin, Interdisziplinäre Projekte; 2007 Gesellenbrief, Potsdam, Fachrichtung Tischler; 2013 Diplom Akademie der bildenden Künste, Klasse Innenarchitektur; Mitbegründerin von Hölzl Knote Frischholz | Architektur und Gestaltung.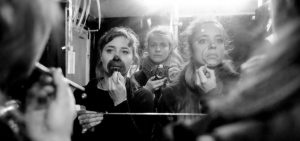 The Hercules & Leo Case
The Art of Swimming learned in less than an hour
The human being is descended from the frog – this case Jean Pierre Brisset, delirious linguist of the forelast century, was sure about. His writings on the relationship between human and frog influenced the Surrealists and Dadas, who named him "Prince of the Thinkers". The Hercules and Leo Case take Brisset at his word. His studies on the frogish and french languages, as well as his swimming lessons, form the starting point for their "Brisset remix".
The performance collective The Hercules and Leo Case creates sound arrangements on the basis of voice and language. The human voice is an instrument for an artistic research that explores the relationship between animal-like sounds and differentiated speech, or from simple noises to music producted in a variety of ways – broken, deconstructed, rhythmically and medially extended. Inquiring, experimenting and improvising, The Hercules and Leo Case explores the gray zone between nature and culture, using literature, film, music and science, or for example a New York court case which attempted to give two captive chimps, Hercules and Leo, human rights. The case gives the collective its name, and is symbolic of the concept: giving a voice to the unheard, unheard-of treatment, invisible concealment, so that the incomprehensible can be heard.
Maria Berauer – born 1982 in Regensburg; 2012 Diploma in Media Art, AdbK Munich; 2011 1. State examinatino in Arts Education; since 2014 Atelierprojekt Halle 6; Atelier Promotion of the Bavarian State (2015-2018) and the City of Munich (2014); 2016/2017 project support from the city of Munich.
Katrin Petroschkat – b. 1979 in Munich; 2005 M.A. Cultural Studies, Humboldt University of Berlin; 2015 Diploma AdbK Munich, class of Prof. Gregor Schneider; 2009 granted an Atelier of the City of Munich; 2012 LfA sponsorship award, 2015 scholarship of the Bavarian State for the Summer Academy of Salzburg.
Karo Knote – b. 1984 in Munich; Carpenter, furniture designer, interior designer, interdisciplinary projects; 2007 Gesellenbrief, Potsdam, specialized in carpentry; 2013 Graduate Academy of Fine Arts, Class Interior Design; Co-founder of Hölzl Knote Frischholz Architecture and Design.