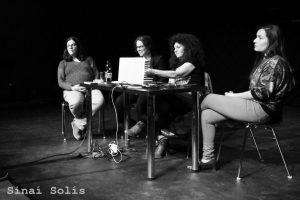 Wenn wir über Amerika sprechen, denken wir für gewöhnlich an die USA und die englische Sprache.Wenn wir uns auf die Länder im Süden beziehen wollen, sprechen wir von Lateinamerika.
In Amerika gibt es vier Kolonialsprachen, Englisch, Französisch, Spanisch und Portugiesisch. Und eine Unzahl sehr alter einheimischer Kulturen, als Teil derer sich die meisten dort lebenden Menschen begreifen, und indigener Sprachen, die sie sprechen.
Amerikanische Frauen, besonders las otras (die anderen), die mit der Farbe des Landes verwechselt werden, in dem sie geboren wurden, andere, weil sie immer wieder ihren Platz abgetreten haben, sind da / hier und beginnen sich in anderen Szenarien zu bewegen, als in denen, in die wir sie verbannt haben.
English: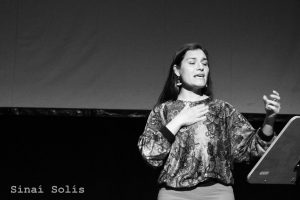 When we talk about America, we usually think of the United States and the English language. If we want to refer to the countries further south, we say Latin America.
But in America, there are four colonizing languages – English, French, Spanish and Portuguese – and myriad ancient native cultures and indigenous languages, something of which most people living there understand and speak.
American women, especially las otras (the others), those who are coloured by the land that saw them being born, who are others because they have constantly relinquished their place, are there / here, beginning to move in other scenarios, different from those to which we had banished them.
Español: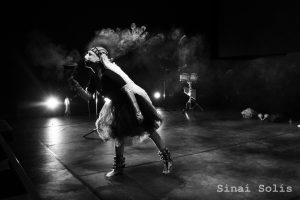 Cuando hablamos de América, pensamos habitualmente en Estados Unidos y en la lengua inglesa. Si queremos hacer referencia a los países de más al sur, hablamos de América Latina.
En América hay cuatro lenguas colonizadoras, inglés, francés, español y portugués. Y una infinidad de culturas nativas y de lenguas indígenas, muy antiguas, de las que la mayoría de las gentes se sienten parte y hablan.
Las mujeres americanas, sobre todo las otras, las que se confunden con el color de la tierra que las vio nacer, las que son otras porque han cedido su lugar constantemente, están ahí/aquí, empezando a moverse en otros escenarios, diferentes de aquellos a los que las habíamos desterrado.