Photo Gallery
Workshop: 12-16.02. (ohne/excluding 13.02.), 10:00-17:00 täglich, Auenstr. 19 Proberaum
Parade: Samstag 17.02., Olympia Einkaufszentrum
Gebühr: €200 | Ermäßigt €120 (Studenten, Geringverdiener, Rentner, Arbeitslose)
Die Masken- und Puppenbauerin Deborah Hunt (Neuseeland/ Puerto Rico) wird einen viertägigen Workshop leiten, der in einer bunten öffentlichen Parade gipfelt.
Während des Workshops werden die Teilnehmer aus Papiermaché ihre eigene große Körpermaske und einen Hut herstellen, sowie ein Kostüm aus drapiertem Stoff. Die daraus entstehenden Charaktere sind absurd und grotesk. Die Teilnehmer werden dann Formationen, Parade-Manöver und kurze Szenen mit den Charakteren entwickeln, die in einer öffentlichen Parade genutzt werden können. Sie werden lernen, wie man mit Papiermaché arbeitet und ein einfaches, aber höchst effektives Kostüm erschafft, und sie werden Bewegungen entdecken, die die Maske zum Leben erwecken.
Dieser Workshop ist offen für Teenager und Erwachsene. Alle Teilnehmer sollten die gesamte Dauer des Workshops anwesend sein.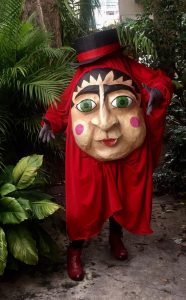 Mask and puppet maker Deborah Hunt (NZ/Puerto Rico) will lead a 4-day workshop that culminates in a colourful public parade.
During the workshop, participants will create their own large body mask and hat from papier maché and a costume of draped fabric. The resulting characters are absurd and grotesque. The participants will then develop formations, parade manouveurs and short scenes with the characters, to be used in a public parade. Participants will learn how to use paper mache, how to create a simple but highly effective costume and will discover ways of moving that bring the mask alive.
This workshop is open to teenagers and adults. All participants should be present for the whole workshop.