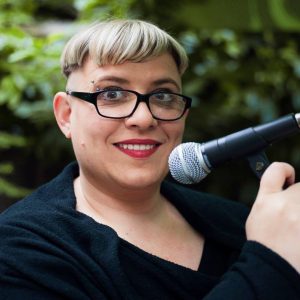 Zoe Gudović ist Feministin, lesbische und künstlerische Aktivistin und die PR Managerin des serbischen Reconstruction Women's Fund. Zusätzlich zu ihrer Arbeit für den Fund ist Zoe in der Erforschung und Ausübung von informellem und politisch engagiertem Theater tätig. Seit 1998 ist sie Mitglied der feministischen Gruppe Women at Work. Sie verbindet ihre Kunst mit Aktivismus mit dem Ziel, gesellschaftliche Verhältnisse zu verändern. Als Gründerin von ACT Women, einer 2003 entstandenen feministischen Theatergruppe, und der Aktivistengruppe Queer Belgrad hat sie ihre einzigartige Form des Straßentheaters auf viele Festivals in der ganzen Welt gebracht. Zoe hat außerdem verschiedene Straßen-Performances als Teil der Kampagne "16 Tage Aktivismus gegen genderbasierte Gewalt" realisiert.
Sie hat die letzten 20 Jahre politisch engagierte Kunst studiert, konsumiert, geschmeckt und aufgeführt. Seit 1999 arbeitet sie aktiv daran, feministische Performance-Kunst sichtbar zu machen, zum Beispiel durch die Mitgründung des Feminist Theatre und das Weitervermitteln von Theaterpraktiken. Seit 2001 hat sie Theaterworkshops in über 20 Städten in Serbien und mehreren Städten des früheren Jugoslawien sowie Europas gehalten: Ljubljana, Sarajevo, Skopje, Barcelona, Berlin, Budapest, Wien etc. Auch seit 2001 schafft sie unter dem Titel "Women's Movement – Women's Theatre – Women's Body" Verbindungen zwischen Künstlerinnen und Aktivistinnen, indem sie Künstlerinnen aus aller Welt einlädt, mit Frauen aus Serbien zu arbeiten.
Zoe hat zahlreiche Kampagnen für die Anerkennung der LGBT Community, für Frauenrechte und marginalisierte Gruppen organisiert. Sie ist offizielle Beraterin des Global Fund for Women (USA) und der Mama Cash Foundation (Niederlande). Darüber hinaus hat sie die feministische Radiosendung "Zenergija" veranstaltet, die Frauen-Band Charming Princess mitbegründet und ist als Drag King aufgetreten. Die letzten drei Jahre hat sie im Fachgebiet Frauenstudien der Fakultät für Politikwissenschaften der Universität von Belgrad Vorlesungen zum Thema feministische Kunst im öffentlichen Raum gehalten.
2016 hat sie den Jelena Šantić Preis für die Verbindung von Kunst, Aktivismus und Menschenrechtsarbeit erhalten (http://fjs.org.rs/obrazlozenje-zirija-za-nagradu-jelena-santic-zoi-gudovic/) und 2017 den Feminist Achievement Award für die Bekanntmachung des Feminismus außerhalb der feministischen Bewegung.
Zoe wird an einer Podiumsdiskussion zu Feministischem Aktivismus als Performance teilnehmen, ihre feministische Theaterarbeit in Serbien präsentieren, mit Das KloHäuschen zusammenarbeiten und mit Münchner Aktivistinnen netzwerken.
Zoe Gudović
Zoe Gudović is a feminist, lesbian, artactvist and the PR Manager of the Reconstruction Women's Fund of Serbia. In addition to her work with the Reconstruction. Women's Fund, Zoe is engaged in the research and practice of non-formal and engaged theater forms. She has been a member of the feminist group Women at Work since 1998. She connects her art and activism with the aim of changing social relations. Co-founder of ACT Women, a feminist theater group started in 2003, and the activist group Queer Beograd, she has brought her unique form of street theater to many festivals, around the world. Zoe has also organized various street performances as part of the 16 days of Activism Against Gender Based Violence campaign. 
Zoe has been studying, consuming, tasting and performing engaged art for the last 20 years. Since 1999 she has worked actively on making feminist performance art visible, from co-founding the Feminist Theatre to sharing theatre practices with others. Since 2001 she has held theatre workshops in over 20 towns across Serbia and several towns in the region of former Yugoslavia and Europe: Ljubljana, Sarajevo, Skopje, Barcelona, Berlin, Budapest, Vienna etc. Also since 2001 she has been making connections between women artists and women activists, under the title "Women's Movement – Women's Theatre – Women's Body", inviting various artists from around the world to work with the women from Serbia.
Zoe has organized numerous campaigns for the visibility of LGBT community, women's human rights, and people from the margins. She is an Official Advisor with the Global Fund for Women (USA) and an advisor of the Mama Cash Foundation (Netherlands). In other fields, Zoe has hosted the feminist radio show Zenergija, co-founded the women's music band Charming Princess and performed as a drag king. For the last three years she has lectured on issues of feminist art in public spaces, at the Women's Studies section of the Faculty of Political Sciences, University of Belgrade.
In 2016 she received the Jelena Šantić Prize for connection art and activism, and promoting human rights (http://fjs.org.rs/obrazlozenje-zirija-za-nagradu-jelena-santic-zoi-gudovic/) and in 2017 she received the Feminist Achievement Award for promoting feminism beyond the feminist movement.
Zoe will participate in the panel discussion Feminist Activism as Performance, make a presentation about her feminist theatre work in Serbia, realise the performance-installation DISSOCIATION in collaboration with das KloHäuschen and network with activists in Munich.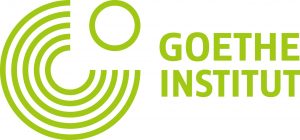 Zoe Gudović wird vom Geothe Insitut unterstützt.