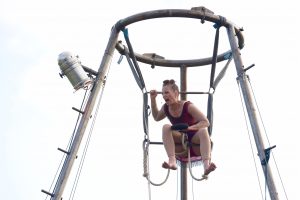 03-04.02., JIM e.V.
Gebühr: €150 | Ermäßigt €90 | JIM e.V. Members €70
Begrenzt auf 16 Teilnehmer / Limited to 16 Participants
Jana Korb kreieret luftartistische Stücke am Trapez, Luftring und Seil – Aerial Theater. Der Raum, den sie bespiele, ist in extremer Weise begrenzt und eingeschränkt. Das ist für sie zur performativen Normalität geworden. Denn genau diese Begrenztheit gibt ihr die Möglichkeit großer kreativer Freiheit und Inspiration.
Auch auf dem Boden kann dies ein wirkungsvolles performatives Mittel der Gestaltung sein – wenn man den Raum als weißes Blatt Papier begreift, wo die Entscheidung für einen Anfang schwer fällt: Stelle einen Stuhl in den Raum und verlasse diesen nicht – und es eröffnen sich kreative Welten, die weit über den Raum des Stuhls hinaus reichen.
Wir werden in diesem Workshop im unbegrenzten sowie im begrenzten Raum performen und improvisieren; wir arbeiten mit räumlichen Objekten auf dem Boden (Stühle, Tische usw.) und in der Luft.
Information für Teilnehmer/innen:
Trainings Kleidung – lange Ärmel und Beine
Wenn Du ein bevorzugtes räumliches Objekt hast (Stuhl, Tisch, Mülltonne, Fahrrad, Teppich…) und das mitbringen kannst, dann ist das super!
(Luft-)artistische Vorkenntnisse sind nicht nötig
Der Workshop findet statt in der Turnhalle der Grundschule an der Jenaer Straße 3, 80992 München-Moosach – erreichbar mit der U3 Moosacher St.-Martins-Platz, Tramlinie 20 Hugo-Troendle-Str. und mit der S-Bahn S1 Moosach.
Creation in confined space
Jana Korb creates aerial performances on the trapeze, aerial ring and tissue – Aerial Theater. The space in which she works is limited and restricted in an extreme way. This has become her performative normality. But it also is precisely this limitation that allows her great creative freedom and inspiration.
Also on the ground, this can be an effective method for shaping a performance – when the space is understood as a blank sheet of paper, where the decision of how to begin is hard: place a chair in the room and never leave it – this might open up creative worlds that extend far beyond the space of your chair.
In this workshop, we will perform and improvise in unlimited and limited space; we will work with three-dimensional objects on the ground (chairs, tables, etc.) and in the air.
Information for participants:
Training clothing – long sleeves and legs
If you have a preferred spatial object (chair, table, rubbish bin, bicycle, carpet …) and can bring it, that's great!
Aerial and acrobatic skills are not required
The workshop takes place in the gymnasium of the elementary school at Jenaer Straße 3, 80992 München-Moosach. Take the U3 Moosacher St.-Martins-Platz, Tramline 20 to Hugo-Troendle-Str. or the S-Bahn S1 to Moosach.