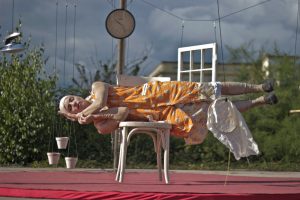 Jana Korb kreiert Aerial Theater, narrativen Zirkus und Performances für den öffentlichen Raum. Dabei sucht sie eine interdisziplinäre Überschreitung traditioneller Grenzziehungen: Bewegungstheater wird mit zeitgenössischem Zirkus kombiniert, Tanztheater mit Trapez-Kunst, Performance mit Akrobatik. So entstehen verdichtete, tiefe und berührende Bühnenstücke, bei denen Artistik ein tänzerisches Element der Erzählung ist, Luftartistik die Sprache. Jana Korbs Welt des Aerial Theater ist schmerzlich menschlich, erzählt von persönlichen Träumen und nimmt akribisch Emotionen unter die Lupe. Sie verortet sich mit ihrer persönlich gesellschaftskritischen Herangehensweise in den Spannungsfeldern von Alter, Geschlecht und Körper.
Sie lernte Luftartistik bei Orit Nevo und Mike Wright sowie physisches Theater bei Elias Cohen und Gabriel Chame. Sie studierte Kulturwissenschaften an der Freien Universität Berlin sowie bildende Kunst an der Hochschule der Künste Berlin. Jana arbeitet für und mit verschiedenen Kompanien (Sol'Air, Eclair en l'Air). Vor allem jedoch ist sie freischaffende Künstlerin mit eigenen Produktionen.
2016 hat Jana Korb die Luftartistik Festspiele Berlin mitbegründet, ein internationales netzwerkendes, performatives und weiterbildendes Festival. Seit 2013 ist Jana aktives Mitglied des Magdalena Project. Sie wird ihre Soli "Frau Vladusch – TrapezTanzTheater" und "Die Trapezkünstlerin – Aerial Theater nach Franz Kafka" aufführen, sowie einen Wochenend-Workshop anbieten: "Kreation im begrenzten Raum".
Jana Korb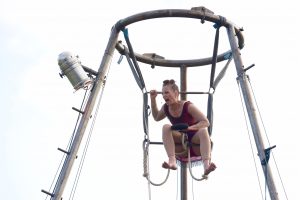 Jana Korb is an aerial artist and performer, artist and producer in contemporary circus and street theater. She also works for the public recognition of circus as an artform. She works artistically and organisationally to promote the visibility of women in the performing arts. Her aerial teachers were Orit Nevo and Mike Wright, as well as Elias Cohen and Gabriel Chame in terms of physical theater education. She studied Cultural Studies at the Freie Universität Berlin, and Fine Arts at the Hochschule der Künste Berlin. Jana works for and with various companies (Sol'Air, Eclair en l'Air), but above all, she is a freelance artist with her own circus productions.
In 2014, together with other artists and producers, Jana founded the Forum Neue Zirkus Berlin, a platform that shows contemporary circus on a large scale for the first time in German-speaking countries. The Neue Zirkus Berlin has set itself the goal of establishing Neue Zirkus as an independent art both at the cultural policy level as well as within the state subsidies. In 2016, Jana Korb and Daniel Megnet founded the Luftartistische Festival Berlin, an international networking, performative and ongoing festival, which premiered in October 2016. Since 2013, Jana has been an active member of the Magdalena project. Jana will perform her solo show Frau Vladusch and give a weekend workshop, Creating in Confined Space.