Zoe Gudović writes about her experiences at the Magdalena München Saison 2018.

When I decided to come to Magdalena Munchen 2018 and take part in the programme, I knew it would be exhausting, but above all interesting and that I would learn so many new things.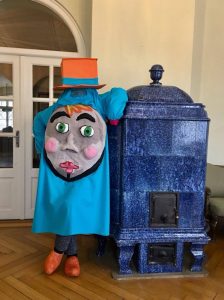 What I felt the first was Helen Varley Jamieson and  Andrea Aß's warm welcome. They brought me to this magical Villa Waldberta, where I got the apartment C, with a view over Starnberger See. Oh, is there a better privilege than being at such a wonderful place, with even more wonderful people?
The 40 days I spent there I was lucky to have the dream team around me – Deborah Hunt,  Thaís Medeiros , Kordula Lobeck de Fabris, Jana Korb. Our moments of happiness, tensions, conversations, joint meals, pushed away all the possible deficiencies, and it was my home for a while.
In the organization of Karin Sommer, we had Jourfix at the Villa Waldberta, so each of us had a chance to present our work to local people. Karin is gifted to make gorgeous food and drinks that make everything so relaxed, and yet professional.
I adore Deborah`s work. That woman always makes me a better person who thinks about how and where she should head to. Mask making workshops and preparations for performance are exciting, smart, and yet require a lot of energy. But throughout the entire day you work on yourself, create for yourself, while being a part of the whole thing at the same time. Deborah knows very well to respect the freedom you have in the process. It was great and subversive to play it in a large shopping mall, where people reacted with enthusiasm, but sometimes were puzzled too. Both children and adults watched and wished to touch the masks, to be a part of the performance.
The experience I have had with  Tapete Manifesto was deep, emotional and empowering. For the first time I practiced Kung Fu, and it was good, I would love to learn more. When we dived into the subject, we concluded that violence against women affects, or should affect, everyone. We had a demanding and liberating process. With drums, lead by Thaís Medeiros, we performed in HochX and took the audience`s breath away, as we wanted to, since something is being taken away from women every now and then.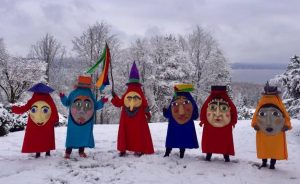 During my stay, I was lucky to celebrate my birthday in the Villa. I enjoyed food, drinks and great people, plus got a gift from Jana Korb who played her presentation at the pavilion. My heart was almost stopped by all that beauty.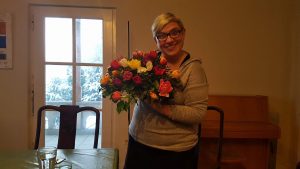 The time I spent with Kordula Lobeck de Fabris, and her great installation, taught me more about migrants and war, and I was also lucky to meet her super daughter.
The beginning of March also brought me joy and love, since I met my old friends from Teatret OM , whom I know for over 20 years, i.e. over half of my life. I saw the terrific Sandra Pasini, hugged Antonella Diana, and also the great Helen Chadwick the same evening. The chance to meet them and see their works makes me a richer person.
Helen and Andy knew I should meet the local crew too, so they invited us to join them on Wednesdays for the traditional Bavarian evening, Stammtisch.
And one cold day our dear Andy took us for sightseeing all around Munich.
Some beliefs say it takes 40 days to resurrect, and I managed to be born, to die, and to be reborn in my 40 days stay, since everything Helen planned was so beautiful, interesting and wise.
With thanks to the Villa Waldberta and the Goethe institut Belgrade.
By Zoe Gudović, with translation by Ana Imširović Đorđević.