Knot 2019: Workshops
---
---
Im Rahmen von Knot 2019 bieten wir drei großartige Workshops an, die von professionellen Künstlerinnen geleitet werden. Sie sind jeweils Experten in Gesang, Tanz und Clownerie.
Um sich für die Workshops anzumelden, klicken Sie bitte auf den Zahlungsbutton und geben Sie Ihre Daten ein. Bei Fragen zu den Workshops oder Ihrer Bezahlung wenden Sie sich bitte an info [at] magdalenamuenchen.de.
Gesangsworkshop mit Claudia Urrutia (Chile / Frankreich), 14.9.19, 10:30-13:30 Uhr
"Taranta Atelier", mit Tänzerin Maristella Martella (Italien), 15.9.19, 10:00-13:00 Uhr
"The Pleasure of being a Ridiculous Woman", mit Clown Josune Goenaga (Spanien / München), 28.9.19  und 29.9.19, 10:30-16:30 Uhr
Gesangsworkshop
Die Sängerin, Schauspielerin, Künstlerin sowie Lehrerin Claudia Urrutia kommt aus Chile und wohnt jetzt in Frankreich. Der Karneval, Volksfeste, traditionelle Musik und soziale Kämpfe sind ihre Inspirationsquellen, um einen Akt des Widerstandes und des Feierns zu erschaffen.
Workshop Beschreibung kommt bald.
Details: Gesangsworkshop

Zahlung
Samstag 14. September, 10:30-13:30
Werkstatt, EineWeltHaus
Teilnehmern: Männer und Frauen, begrenzt 20 Teilnehmern
Kosten: € 50, Ermäßigt € 30
Gebühr / Fee:


Processing ...

Ermäßigt / Reduced:


Processing ...
---
Taranta Atelier
Die Tänzerin Maristella Martella stammt aus der Südspitze Italiens, wo sie als Meisterin der Tarantella sehr bekannt ist.
The body is a means by which one creates; it is a mirror of one's own experience, but also an expression of the culture, collective memory, and social context impressed onto the modality of movement, postural attitudes, and gestures. Dance transmits and reflects the spirit, conflict, and hope of its own time and context. It has always accompanied the celebration of important events in the community: births, marriages, natural events, etc. As an artistic form and collective expression, it passes on cultural and social values. The traditional/ethnic dance in particular is an inexhaustible reservoir of experiences and knowledge of the history of the people it represents.
Maristella Martella's starting point of research is ritual, and the origin of therapeutic traditional music and dance from Southern Italy: of trance and Tarantism. For Martella, delving into the technical virtuosity and choreographic complexity of traditional dance is not enough. She takes it further by analyzing the practice of ritual and its theatrical expression by adding the dimension of contemporary dance's language. This way, different possibilities for reading and interpreting traditional codes and their transformations can be offered.
The phenomenon which will be explored in this workshop is Tarantism. Tarantism belongs to the complex and ancient Southern Italian ideological system. According to the legend, the Tarantism is an ailment through the bite of a tarantula, scorpion, or snake. In this context, when an individual would show symptoms of Tarantism, the members of their household/village would conduct a therapeutic ritual. The healing and reintegration of the person suffering were achieved through the use of various elements such as music, dance, and colors. It is said that the swirling dance ritual was the only cure.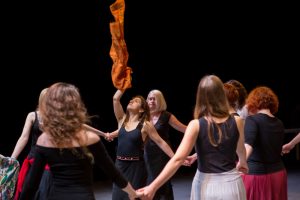 Methodology
The methodology that Martella follows is predominantly experiential and deductive. Therefore, the foundation is practice. However, it alternates with moments of observation and reflection aimed at developing a new practice.
Practical and conscious experience matures through the process of transformation of the movement, within a structure of choral improvisation. The training is based on a conscious and profound exercise of one's own energetic body, which follows to the material one. Martella's personal reflection on movement, which has matured through her work as a dancer, choreographer, and interpreter of ethno-contemporary dance, flows into it.
The exercise of listening to one's own and others' movement and the intertwining of their respective motoric geometries, determines a deep immersion in the body itself as a mirror of a unique experience; bearer of one's own individual and collective history.
Movement is experienced in an incessant transformation – transition of forms in balance between fullness and emptiness, tension and relaxation, balance and disequilibrium. The individual dancers will undergo a guided improvisation to move through these processes.
Details: Taranta Atelier

Zahlung
Sonntag 15. September, 10:00-13:00
Weltraum, EineWeltHaus
Teilnehmbern: Männer und Frauen
Kosten: € 50, Ermäßigt € 30
Gebühr / Fee:


Processing ...

Ermäßigt / Reduced:


Processing ...
---
The Pleasure of being a Ridiculous Woman
Das Vergnügen, eine lächerliche Frau zu sein
Die Schauspielerin, Clown, Regisseurin und Pädagogin Josune Goenaga studierte Schauspiel in Madrid (William Layton) und Clownerie in Paris (Philippe Gaulier), ausserdem Partner-Akrobatik an der nationalen Zirkus-Schule Havanna (Cuba). Sie hat verschiedene Reisen gemacht mit Clowns Ohne Grenzen und ist eine Gründerin "Clownas", ein Ensemble von weiblichen Clowns in Madrid.
Dieser Workshop ist für erwachsene Frauen, Anfänger und Bühnen-Profi s, für Lehrerinnen, Pädagoginnen und Hausfrauen, für Frauen mit Humor und alle Frauen, die eine neue Seite von sich entdecken wollen. Über Spiele, Körperarbeit und Improvisation machen wir uns auf die Suche nach unserem individuellen Clown. Wir entdecken ihn in unseren authentischen Emotionen, unsere Schwächen werden zu Stärken, wir lassen unser inneres Kind frei. Scheitern macht Spass!!! Wir werden eine andere Art von Theater kennen lernen und neue Techniken entdecken. Oder vielleicht ein neues Hobby? Aber sicher werdet ihr die Freiheit auch spüren!!! Auf der Bühne und warum nicht auch im Leben. Spass ist garantiert!
In den Jahren, die ich als professionelle Clownin unterwegs bin, haben mich immer wieder Menschen gefragt: Warum gibt es so wenige erfolgreiche weibliche Clowns? Obwohl in den Schauspielschulen und Clown-Workshops tendenziell viel mehr Frauen zu fi nden sind? Warum fällt es Frauen so schwer, ihren Impulsen freien Lauf zu lassen und zu lachen, zu schreien, den Körper frei zu lassen? Warum ist es schwieriger als Frau vulgär zu spielen? Warum haben wir Frauen da so viele Barrieren? Und viele Fragen mehr…
Ich habe mit den Clowns ohne Grenzen mit vielen verschiedenen Frauen Clown-Workshops durchgeführt (katholische Frauen, muslimische Frauen, in einem Frauen-Gefängnis, in einem Mädchen-Waisenhaus, einer Einrichtung für misshandelte Frauen…). Immer wieder habe ich die Erfahrung gemacht, dass Clown-Erfahrungen wirklich etwas bewegen und verändern können. Soziale/politische/ religiöse Barrieren können für einen Moment abgeschüttelt werden. Über sich selbst zu lachen, kann eine befreiende Wirkung haben. Deswegen werden wir versuchen, ohne schnelle Urteile zu arbeiten. Wir arbeiten mit Archetypen um herauszufinden, was uns Spass macht, was wir in uns tragen. Wir arbeiten mit unseren Verantwortungen, Sexualität, Unschuld, Kindheit… und wir lachen darüber! Wenn es jemand schaff t über eine Tragödie zu lachen, dann ist das Problem schon gelöst. Deswegen arbeiten wir sehr nahe an den Themen, die uns als Frauen berühren. Es wird ein schöner Austausch!
Josune Goenaga
Details: The pleasure of being a Ridiculous Woman

Zahlung
Samstag 28. und Sonntag 29. September, 10:30-16:30
EineWeltHaus
Teilnehmern: nur für Frauen, begrenzt 12 Teilnehmerinnen
Kosten: € 150, Ermäßigt € 90
Gebühr / Fee:


Processing ...

Ermäßigt / Reduced:


Processing ...