Über Uns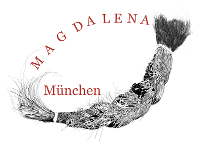 Magdalena München ist Teil des internationalen Netzwerkes The Magdalena Project, gegründet 1986 in Wales. Dessen Anliegen ist es, mehr Aufmerksamkeit für die kreative Arbeit speziell von Frauen in der Freien Theater- und Performance-Szene zu erreichen. Das Netzwerk bietet die Möglichkeit der Präsentation und des kritischen Diskurses sowie Kontakte, Unterstützung, Inspiration und Weiterbildung. Es hat weltweit inzwischen über 100 dokumentierte Festivals und Veranstaltungen sowie zahlreiche Publikationen. Sie leisten somit einen egalitären und selbst organisierten Beitrag zur Chancengleichheit für Frauen im Betrieb der Darstellenden Künste.
Das Magdalena München Team hat in der Vergangenheit erfolgreich drei Wochenendveranstaltungen Magdalena München – Erstes Treffen (June 2015), Magdalena München – In Between (October 2016) and Magdalena München – Knot (September 2019) – und, in 2018, die drei-Monate Magdalena München Saison organisiert. Bei allen Veranstaltungen haben eingeladene Gastkünstlerinnen sowie deutsche und Münchner Künstlerinnen ihre Arbeiten gezeigt. Die Programme enthielten Workshops, Diskussionsrunden und Netzwerkveranstaltungen. Mit kleinem Budget und limitierten Ressourcen wurde recht viel Publikum erreicht und das Netzwerk ist mit jeder Veranstaltung gewachsen.
Künstlerische Leitung: Helen Varley Jamieson
Co-Leitung: Raquel Ro, Marianne Kjær Klausen
Website & Social Media: Helen Varley Jamieson, Raquel Ro
Grafik Design: Raquel Ro, Carina Müller
Pressearbeit: Angelika Schindel
Magdalena Munich is part of the international network The Magdalena Project, founded in 1986 in Wales. Its aim is to increase the visibility of the creative work of women in independent theater and performance. The network provides opportunities for presentation and critical discussion, as well as contacts, support, inspiration, and education. It has produced more than 100 documented festivals and events as well as numerous publications, thus contributing an egalitarian and self-organized contribution to equal opportunities for women in the performing arts.
The Magdalena München team has successfully organised three weekend festivals – Magdalena München – Erstes Treffen (June 2015), Magdalena München – In Between (October 2016) and Magdalena München – Knot (September 2019) – and, in 2018, the three month long Magdalena München Saison. At all events, invited guest artists as well as German and Munich artists presented their works side by side. The programs included workshops, discussion sessions and network events. With a small budget and limited resources, a large audience has been reached and the network has grown with every event.
Artistic Director: Helen Varley Jamieson
Organisation Team: Raquel Ro, Sabine Bollenbach, Cecilia Bolaños, Susanne Fehenberger,
Website & Social Media: Helen Varley Jamieson, Raquel Ro
Graphic Design: Raquel Ro, Carina Müller
Press: Angelika Schindel