Helen invited me the the Magdalena München Season 2018, to participate in a three-month artistic residence in Munich, in Villa Waldberta, a fantastic place, a wonderful house full of so many stories. It was my first artistic residence, and also the first time that I and Ivan, my son, experienced snow – and its silence. Ivan also was artist in residence, he's a musician and a martial arts' practitioner, and participates in the workshop and in the performance of Tapete Manifesto. What a joy to have him at my side in this adventure!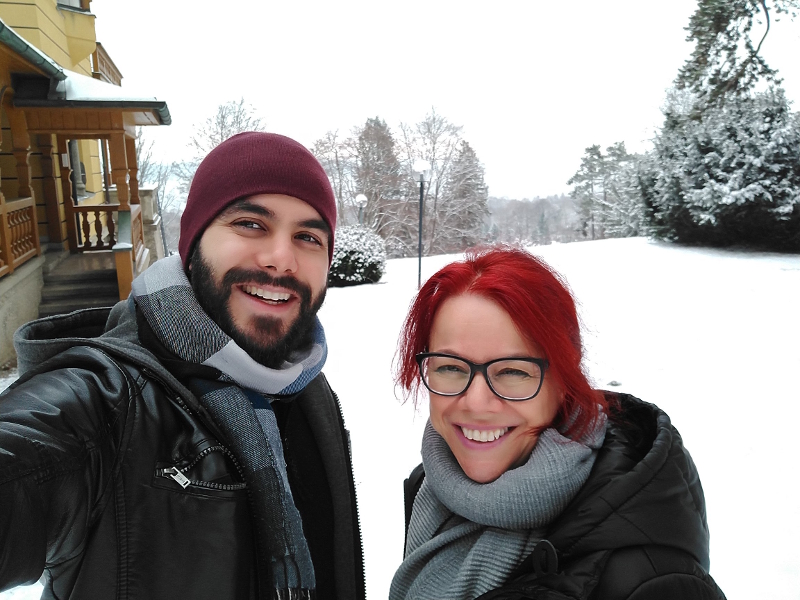 We stayed in an apartment with a lot of light, with huge windows from where you could see the Starnberg lake and the Bavarian Alps. I remember getting up at five o'clock in the morning just to see the sun rise.
When I started this residence I had some idea about the challenge and about what I was looking for with my work, about the possibilities for a encounters and exchanges with other artists, but what I came to live by far surpassed my expectations.
I presented the performances Tapete Manifesto and Triptych: Bones, Red Lipstick and Hamlet in the theaters HochX and Meta Theater, created the performance Janela Manifesto for the event "Break Through #20" in the atelier of lovely Doro Seror and gave the Tapete Manifesto workshop. By the end of the residence, there had been seven presentations of six different performances.
In my workshop Tapete Manifesto, which is centered on the topic of violence against women, incredible artists from different countries participated. At the end of the workshop, we presented a performance which was, in its very essence, a poetic manifesto. We reflected on violence against women using our own bodies and the histories of violence we ourselves had experienced …
I found an echo of this tragic tradition in Mexico and in Serbia.
I researched the statistics of violence against women in Germany, and found out that the sad reality is that 360 women lose their life each year due to violence.
In Brazil, this figure is even a lot more frightening: more than 5.400 women killed every year.
Brasil comes fifth of the world's countries with regard to the murder of women.
In Brasil, every 1.5 hours there is a femicide, and 5 women are raped every hour.
The performance Tapete Manifesto had various ramifications, such as Janela Manifesto in Doro's atelier, and in the installation Invisible Spaces – Women in Art by  Kordula Lobeck de Fabris. For our reflections, it was important to be in contact with these other spaces and formats, and it was essential to exchange experiences with these two artists, both full of great sensibility and force. During these three month, apart from artistic exchanges and inspiration through her art, lovely Kordula also was my companion in residence at Villa Waldberta, where she created wonderful moments with her delicious meals.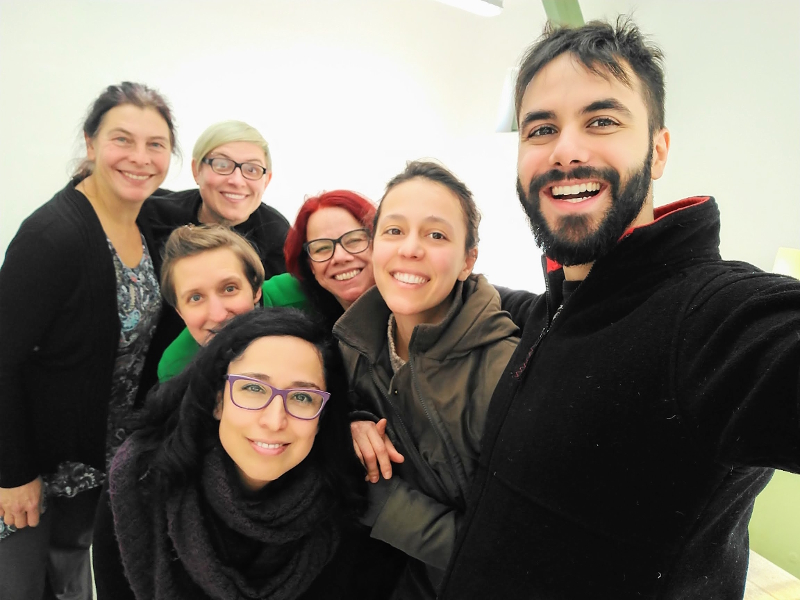 I participated in three workshops with some very inspiring amazing artists, and was inspired by the different affections that strengthened my soul on different levels. Deborah Hunt and her masks, what an intense and sensitive work that I experienced while constructing my masque! With Jill Greenhalgh I found my strength and the control of my stage presence in the silence of the stories. The exchange with Helen Chadwick was so fluid and inspiring, the encounter continues to reverberate within me. She collaborated with me in my performance Triptych: Bones, Red Lipstick and Hamlet, and I contributed, with a story of mine, to her performance TRUTH.
I am a Brasilian artist, and in my country, developing forms of artistic research and or experimenting with forms of artistic expression is considered an "unnecessary luxury". My art is continuously being interrupted by the struggle to survive. I have to re-invent myself every day, especially at this very moment when a backlash dominates politics which tries to eliminate all options for art, for culture and for dreams. During those three months in Munich, I lived the difference: there, artists receive a very different treatment, there were opportunities, there was respect, and an understanding of the importance of culture and artistic creation.
The artistic residence allowed me to experience collaborations that developed naturally at the festival, and it allowed me to stop with all these issues of the lack of time / space which I am experiencing in the city of São Paulo.
I'll never forget the walk with Andy on a very cold day in Munich, the long hike to get to know the monastery of Andechs with Jana, Ivan and Zoe, where we kept finding lots of interesting "pebbles" along the way …
The parties and exchanges with Claudia Urrutia, Silvie Marchand, Teatret Om, Annie Abrahams and all the other incredible people I came to know… Between the artists participating in this residence there was enough time, a lot of creativity and trust. Our stories, voices and quests were met with recognition.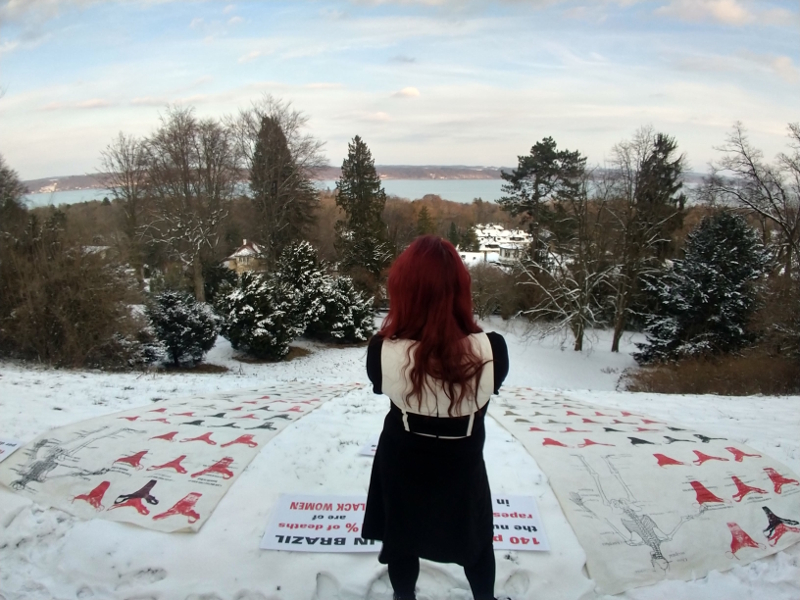 I spent a very long time by myself wandering along the Starnberg lake and creating a cellphone video for my Ofélia to immerse in…
It was a time of reflection, clashes, a lot of work, train rides coming from and going to places to present my performances and to watch the performances of others… Everything happened with a lot of affection, coffee, wine, with these German sweets – I already forgot the name, it is only produced at this time of the year – and the best beer ever! … In this space / time, my heart opened wide for my artistic creation, and it was during this space / time in contact with the silence of the snow, of the lake, in touch with my own story (made of silences, too), that I was able to reconnect myself with my peace, with my silence, with my force as an artist and as a woman …
Each Magdalena Festival, created and produced by women in this world is, in the first place, a revolutionary act. An act in which we are weaving bonds in a net made of dreams, desires and accomplishments. We set our voices free, we can hear these female voices, their screams … This saves us, inspires us and makes us continue, makes us venture and believe in artistic creation.
This artistic residence organized by Helen could not have been different, and it has brought us something very essential: the space; the time; the silence.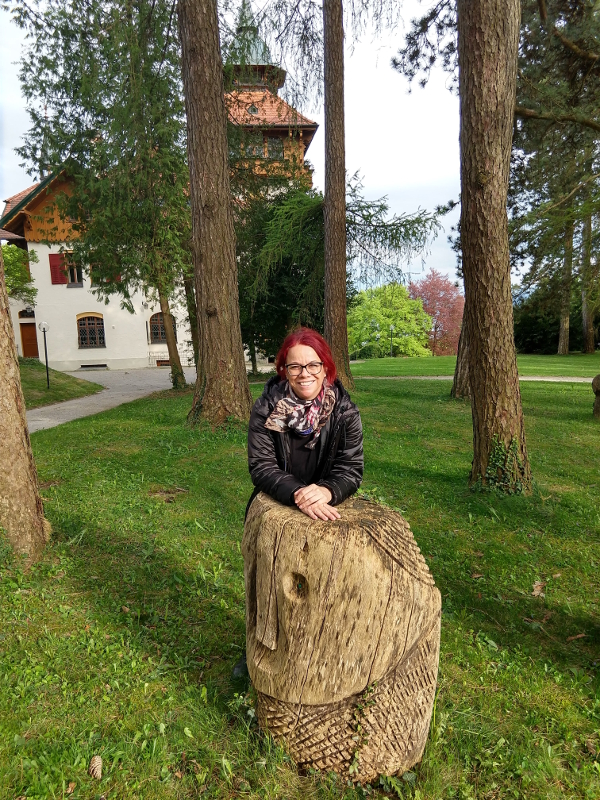 I admire Helen, and I'm inspired by her courage to set up Magdalena Season, it has been a real marathon for her and for all of us. Helen worked with little resources, but with the power of her dreams. For me, it seems that she re-invents, brings fresh breath and creates new possibilities by creating this artistic residence, maybe something like a new philosophy in the heart of all Magdalenas.
We left Munich in blooming spring, our hearts filled with the flowers of our encounters and exchanges, full of energy and inspiration, filled with hopes for new projects and with the wish to create a space / a time to realize a festival in São Paulo.
In my artistic being, in my dreams, I'm always looking for an empty space, a space / time, I'm looking for the silence within me, the silence I need for my creations, and for the opportunity to enter into relations and exchanges with the others on the deepest possible level.
This is what I found during this artistic residence, during this journey.
I thank you, dear Helen, from the bottom of my heart for the richness and courage of your project, and you, dear Karin Sommer, for realizing the meetings for all the artists in residence (Jourfix) with so much love that kept us together with all our differences. I thank everyone from Villa Waldberta team and those dear amazing women and powerful artists that shared that incredible place with me, to my dears Angelika Schindel and Leonie Sontheimer, to my dear son and to my dear partner Ulysses and to my mother who inspires me. A special thank to Karine Legrant and to the Goethe Institute for supporting me in this experience.
Thaís Medeiros
Translated from the Portuguese by Dr. Christina Märzhäuser (read the original Portuguese post here).