Zoe Gudović writes about her project DISSOCIATION at Das KloHäuschen during the Magdalena München Saison 2018.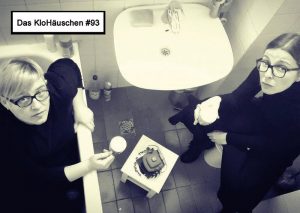 A year ago Helen Varley Jamieson invited me to take part in the Magdalena München Saison 2018 and share my experience from Serbia on merging art and activism. The lecture was planned for 6th of March, and Helen insisted to have me there in February, so I gladly agreed and took part in other workshops on the programme. Helen soon forwarded the toilet link, link of the art space called Das KloHäuschen, to the mailing list of all people invited. This public toilet totally occupied me, and I knew it was my space, a space where I was supposed to create something, finally something mine. Helen was so persistent and attentive at the same time as if she knew that her idea would be one of the best things that have happened to me lately. This chance I was given helped me realize who I was, and my new identity as a TOILET ARTIST was born.
When I stepped into the toilet, curated by Anja Uhlig, my heart bounced, filled both with passion and curiosity, and wrapped in the warmth of love. I knew that the toilet was my fundament, my home, and I wished it was my living room where my visitors would feel at home. I come from a large family, where 6 of us shared a space of 36 square meters, sharing everything, without any private space. That`s why the toilet was so important, as the most intimate part of me and the most intimate part of that space, but yet not intimate at all since it belonged to others too.
Nicola von Thurn's assistance gave me joy and a chance to meet this great artist from Munich. This installation would not be possible without her, since she brought and built in it a part of herself, her furniture, plus invested a decorating effort.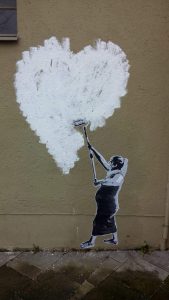 At the very beginning someone left a gift to me – graffiti. It was the best possible welcome gift, but also an intrigue, since after the installation was over and I left, the graffiti also vanished.
The subject I worked on with this installation was DISSOCIATION. It was inspirational for audience visiting my toilet/living room too, and many people came because they felt the same, but were unwilling to talk about it a lot. You can`t get a cure against dissociation, but can just do your best to heal it to some extent using face to face method.  Therefore, each visitor could spend 15 minutes with me, being offered a space for her/him as well, since in that space I opened the contrasting questions of violence and love!
Various testimonies and confessions happened in there, in my living room, in that men`s toilet. Many visitors said they survived violence, rape, that we felt violence much more than we were able to express, due to our low level of emotional literacy and lack of knowledge of what love is and how it works.
For 3 days, including around 21 hours of performing, 70 people went through the Dissociation installation, leaving behind them messages on the toilet paper on what love meant to them.
The combination of me and the toilet, of my story and the whole world, attracted many to peep in, step in, ask, open themselves, and the media got interested as well. When I left, the great Anja Uhlig and the toilet received an award, dressed as one could only wish for, in warmth and openness of my living space.
A wonderful organizer, but first of all a friend, and now she could even become my manager – Helen – made sure every detail was in place, that I always had someone at hand to assist me and volunteer, and I would love to express my gratitude to all the dear people who helped, photographed, talked, shared space and time with me in the very cold weather, since it was February and it was all in the toilet. It was moving to see people waiting in the queue to step in and spend some time with me, see the installation, bringing me beer and blankets to warm myself up. The artist Dorothea Seror  lent me her cups and as a present gave me my favorite clogs.
Why people were curious: the toilet brings on the personal perspective, makes them identify with the subject, and they are eager to talk, to communicate. They said they wanted to spend some time with the artist. So all the visitors who made it, had me for a while.
This experience would not be possible if the powerful fairies did not join their forces. I got my first art residence – Villa Waldberta – the most beautiful space I have ever seen. And I got supported by Goethe-Institut Belgrad.
I am looking forward to get back to the  Villa Waldberta , and see you this year too, because I no longer know how to live without  Das KloHäuschen.
Zoe Gudović, translated by Ana Imširović Đorđević.