It's the middle of March and the middle of the Magdalena München Saison: six weeks behind us, six weeks ahead. Time to pause and take a breath, look back at what's happened and gather our energies for the next stretch!
February guests Jana Korb, Deborah Hunt and Zoe Gudović have now all returned to their homes in Berlin, Puerto Rico and Belgrade. Deborah has written about her experiences here, and we are expecting reports from Jana and Zoe. For all of them, as well as for Thaís Medeiros and Kordula Lobeck de Fabris who are here for the whole three months, February was a very busy time. Performances, workshops and Zoe's installation at das KloHäuschen, as well as social gatherings and adventures with public transport quickly filled the month. All of the events were successful, even if the audiences could have been bigger, and we achieved a lot of coverage in the newspapers. Excitingly, all of the artists made new connections and have talked of returning for future projects and collaborations.
For the local Magdalena team, it's been six weeks of juggling our ongoing work and family commitments with organisational duties, documentation, hosting – and attending performances, participating in workshops and spending time with the visiting artists. At the beginning of March the team happily welcomed two additional volunteers – our intern Gina Saggiante, and Vedanth Ramesh who has come all the way from India to help and participate.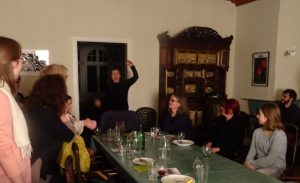 March has an unofficial theme of songs and singing, with Teatret OM arriving from Denmark and presenting their song-based performance "I Maltagliati",  Helen Chadwick from London performing "Fragments of Love" and giving a Harmoniegesang workshop, and Elis & Catherine (from Munich and Boston) performing their Brasilian music concert "Um Gosto de Sol". The March "Jourfix" at the Villa Waldberta celebrated song, with both guest artists and local Munich artists singing and teaching songs, which everyone joined in. At left, Helen Chadwick leads us in a two-part harmony.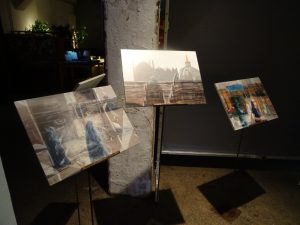 But it's not only about song. March began with Kordula Lobeck de Fabris' multimedia installation "Unsichtbare Orte – Weil das Leben ein Geschenk ist", featuring the work of Afghani teenagers with whom Kordula has collaborated over the last two years. The material gives a fascinating insight into their lives and how they are adapting to living in Germany. Two of the youths, Navid and Hasib, came to Munich and shared their experiences of both life and the project in a networking and exchange event. Kordula is now working with a group of women on "Unsichtbare Orte – Frauen in der Kunst", which will follow a similar form to the previous "Unsichtbare Orte" installations but with completely new material that explores women artists' "invisible spaces". This will also be shown at PATHOS Theater, from 18 to 22 April.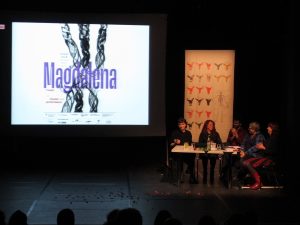 "Feministischer Aktivismus als Performance" was the topic on 6 March, where we witnessed the performance "Tapete Manifesto", by Thaís Medeiros and her workshop participants (Sabine Bollenbach, Cecilia Bolaños, Cordula Trapp and Zoe Gudović), with drums by Ivan Medeiros. The performance presents brutal statistics and realities about violence against women in a way that is poetic, beautiful and provocative. Following the performance there was a panel discussion, where I dedicated the evening to the late performance artist and gender activist Diane Torr, and both Thaís and Zoe Gudović spoke about how they use performance as a tool for feminist activism, and how activism informs their artistic work. The event was moderated by Maria Fedorova and we had a good discussion with the audience after the presentations.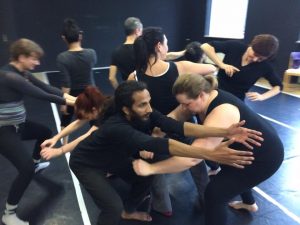 Last weekend Teatret OM's workshop "The Presence of Emptiness" was an intense and inspiring experience. Over the course of two days, as well as learning some of the group's regular training methods, we undertook a devising process and created a 10 minute performance that started from literally nothing. Scenographer Antonella Diana proposed blankets as objects to work with, we generated actions through a number of exercises, and director Sandra Pasini made decisions that shaped the material in such a way that stories began to naturally emerge. It was a very clear demonstration of the creative methods that Teatret OM has developed over 30 years of theatre research. Three days later, my legs are still a little bit sore from the Wind Dance, and my mind is alive with possibilities of applying some of these techniques in my own work.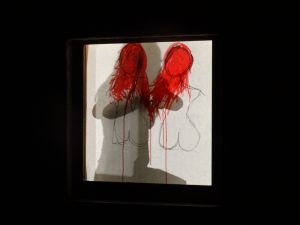 An important aspect of the Magdalena Saison is working with different venues and spaces to reach a variety of audiences and generate collaborations between different parts of Munich's independent arts community. Our performances are mainly at HochX and Meta Theater – both very special performance spaces for different reasons, HochX being a beautiful historic theatre with a vibrant young team, and Meta Theater being designed and built by architect/director Axel Tangerding as his home and theater for over 30 years. We have also performed at the Olympia Einkaufszentrum, and are collaborating with two unique projects: "Break through" and das KloHäuschen. Last Sunday Thaís Medeiros performed "Janela Manifesto" in the "Break through" space – a 1m x 1m window in Dorothea Seror's atelier. Thaís used elements from "Tapete Manifesto" and transformed the window into a canvas, working with paint and shadow.  Claudia Urrutia will develop the 21st "Break through" performance, to be presented on 11 April.
Also in March the Süddeutsche Zeitung announced that das KloHäuschen is one of the winners of the Tassilo-Kulturpreis – well deserved, and undoubtedy helped by the success of Zoe's installation "DISSOCIATION" in February! Magdalena is back at das KloHäuschen on 29.03. with "Der Wechsel" from MarinA.
It's quite overwhelming to look back on all of this activity, that began a year ago with conversations and emails, then became a programme printed on paper, and has now manifested into living breathing events that have touched so many people. We are half way through the marathon and looking forward with anticipation at the programme for April!